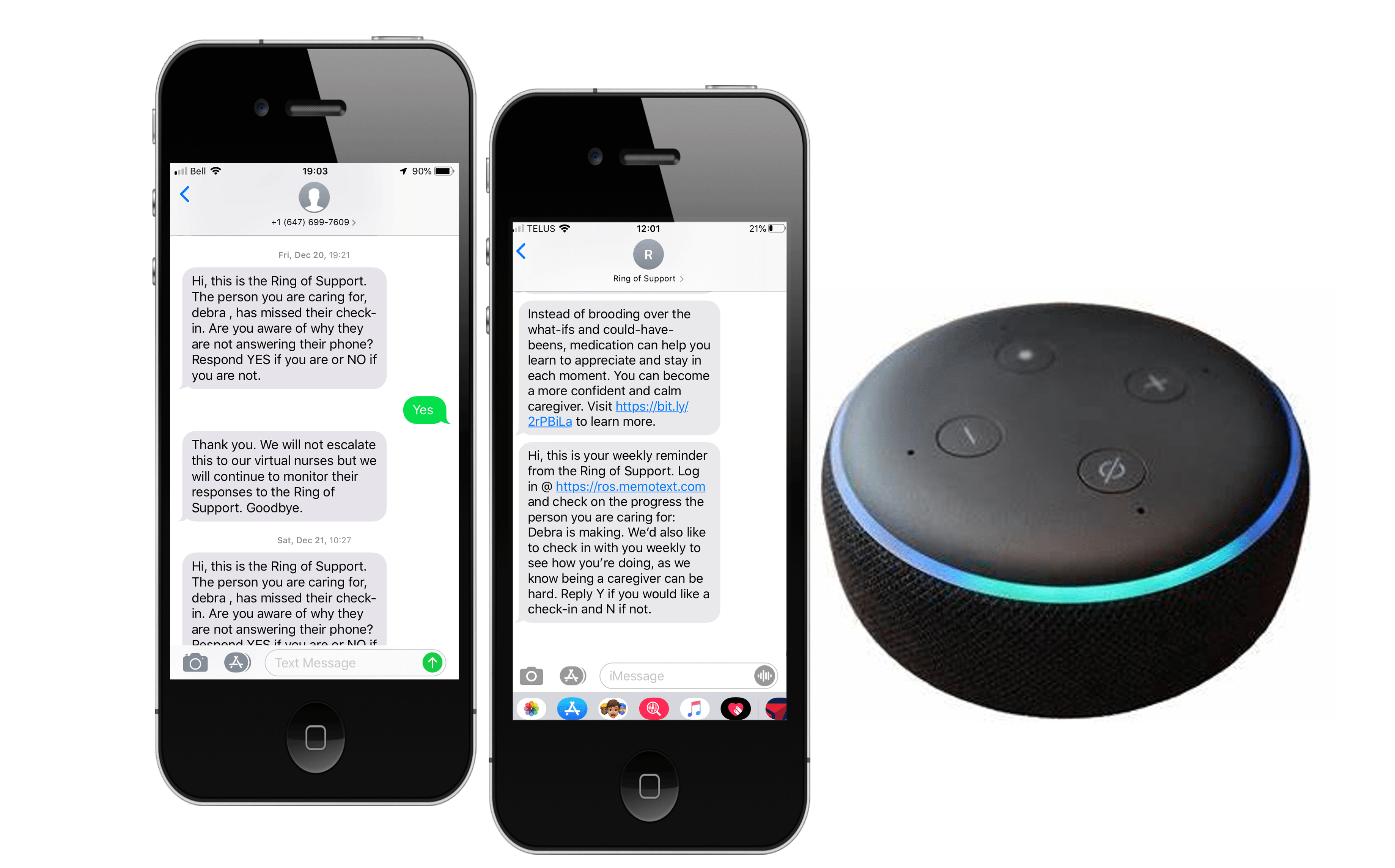 Ring Of Support
Allow seniors to age comfortably in their homes with an automated Interactive Voice Response and Smart Assistant virtual check-in.
Ring of Support is a program to help individuals monitor their loved ones through phone check-ins and nurse visits. The program provides medication, appointment, meal, and wellness check-in robo calls to a landline or mobile device; clinical support, including monitoring, at home deployment and health coaching and caregiver updates and support to help individual find peace of mind. 
The check-ins ask questions related to health and symptom monitoring, provide access to direct clinical care providers who can respond to risk when caregivers are unavailable and proactive alerts to serve as memory aids for medication, activities of daily living, and events/appointments reminders. 
Due to the COVID-19 pandemic Ring of Support has included appointment check-ins that provide the senior with a date and time confirmation and a 3 question COVID screen. Any positive symptoms resulting from the COVID screen lead to escalation to region specific nurses.
By 2030, 9.5 M Canadians will be 65+ making up about 20% of the population. As individuals begin to live longer, it is vital to have a support system and circle of care.
Many caregivers have expressed an extreme need for having a digital solution that could keep track of the individuals they are caring for, with the ability to deploy health professionals when they are unable to assist.
Due to social distancing restrictions by the Ministry of Health COVID guidelines, home visitations need to be limited both for the safety of the patients and nurses. 

To determine eligibility for a home visit, patients must be called to screen for COVID and ask if a home visit is requested.
Ring of Support allows seniors can age comfortably in their homes for longer and have their caregivers monitor them from afar when they are not able to be there by their sides.
A previous study showed 100% of the users communicated using IVR, Alexa, SMS, with IVR being the most popular modality both for seniors and caregivers. 
87% of users reported high satisfaction with the service and caregivers reported loving being notified of updates about their loved ones. 
The COVID questions allows nurses to pre-screen patients for high-risk patients and take appropriate safety measures ahead of their appointments. Patients are also offered a choice to have a nurse come to their home based on their needs.  We make 3000 IVR calls per day. 
SE Health is one of Canada's leading diversified home health companies. They will be our partner in providing the monitoring deployment and care coaching service for Ring of Support.